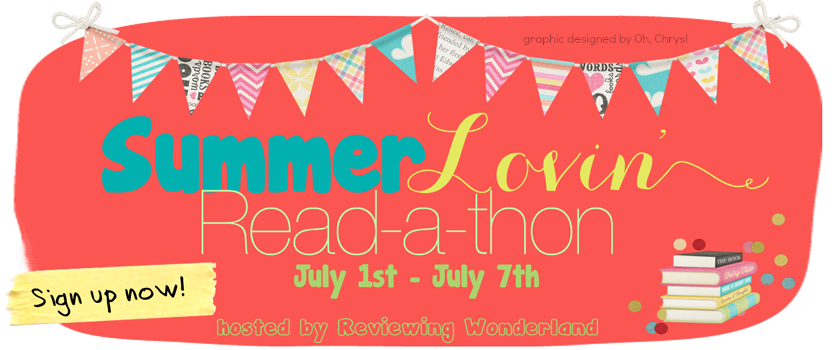 Today's

Participation

discussion is…
Share your progress – How many books have you read so far? Have you gotten off track? What are your plans for the rest of the read-a-thon?
Let's take a minute to support each other! Jump through the linky list and show your fellow readers some comment love.
So far I have only completed one book - Pivot Point by Kasie West. I'm 20% into Dare You To and on page 34 of The Statistical Probability of Love at First Sight.
I haven't had much free time and I've been so tired so I'm way behind on what I wanted to read during the Read-A-Thon. I'll now be happy if I can complete the 2 I've started. That's only 3 books in total - I read the same amount over a 4 day read-a-thon so that's a bit sad. There isn't much I can do though, I can't change the things that I've had to do.
I only have tonight and the weekend left s
o I'll be happy enough if I finish these 2.
Challenge
Cover Title Scramble

1) hte h5t vewa

The 5th Wave


2) eht scetrsahnen

The Enchantress


3) ginwre

Winger


4) sujt neo skis

Just one Kiss


5) yan shduesc lwil od

Any Duchess Will Do


6) ti dha ot eb ]uyo

It Had To Be You


7) tols dan dfnuo

Lost And Found


8) het yelbon gnki

The Boleyn King


9) neoc noup a niprec

Once Upon A Prince
1) het nomo dan remo

The Moon and More
2) ormts dna egies

Siege and Storm
3) rtas dsceur

Star Cursed
4) teswe lsat ira

Sweet Salt Air
5) het crenwmeo

The Newcomer


6) veorfre oto rfa

Forever Too Far


7) het miatng fo deyrr uanacvhga

The Taming of Ryder Cavanaugh
8) wot fo a dnki

Two of a Kind
9) neo etswe deri

One Sweet Ride


10) hwta hte kedu sesdeir

What The Duke Desires
1) fi het ohes tisf

If The Shoe Fits


2) eth eegd fo vnere

The Edge of Never


3) rfits gisht a veonl

First Sight: A Novel


4) utre lvoe

True Love


5) ehtre tletil rdswo

Three Little Words


6) eht gniht si velia

The Night Is Alive


7) feprcte gifln

Perfect Fling


8) scoseh hte gronw ugy veag imh het gwonr gefrni

Chose The Wrong Guy, Gave Him The Wrong Finger


9) meoh ot kewihsy kecre

Home To Whiskey Creek



1) lafl fo veif

Fall Of Five
2) wrnco fo gdminhit

Crown of Midnight
3) hte desah fo het onom

The Shade of The Moon
4) sero bahrro ni mlobo

Rose Harbour in Bloom


5) eht rohe

The Hero


6) gib ysk diwengd

Big Sky Wedding
7) yatacasw veoc a ltehrse yab venlo

Castaway Cove: A Shelter Bay Novel
8) siht rilg a veonl

This Girl: A Novel